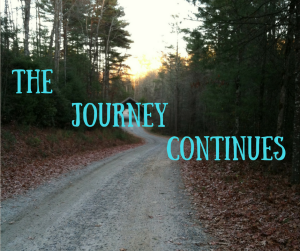 At the end of July, Dad found out he was in remission from T-cell Lymphoma.  It was the answer to many prayers and God was given all the praise.
He went back to his church on Sunday, August 5th, for the first time since March.  My brother and his wife, along with my daughter and I, went with them.  The outpouring of love shown to him touched us all.
Throughout the month of August, Dad got out more and did things around the house and outside that he had not been able to do in quite a while.  He still had weakness in his legs and one foot has what is called "foot drop."  He went to physical therapy to work on his balance and strength.  He had days when he felt good enough to get out and about and then days when he laid down most of the time.
In September and October, his weakness gradually became a little more prevalent.  He still pushed himself to get outside but many days felt too weak to do much.  He had a CT scan at the end of October.  And then a PET scan.  The news was not what anyone wanted to hear.  The lymphoma was back, but not to the extent it had been when he was first diagnosed.  The doctor had researched some new drugs that had been developed for the specific rare form of lymphoma that Dad had.  So once again, treatment began.
This time he went daily for five days, receiving the new drug.  Then he had two weeks off before starting another round of 5 days.    It was the first time that specific drug was used at the cancer center.  Although there was a list of possible side effects, no one really knew what to expect.  He did have some side effects, including the continual feeling of weakness.  He also had stinging and itching that was and still is hard to bear.
After finishing the third round, he went for a PET scan the day after Christmas.  The news from the scan was good.  The lymph nodes that had shown up on the scan in November was not seen in the new PET scan.  However, the doctor had indicated before the scan that regardless of the results, he thought Dad should still have another three rounds of treatment.
I have hesitated writing about my Dad's medical condition again.  When I wrote the last post announcing his remission from T-cell Lymphoma, I had so hoped it was the last time I would ever write anything about it.  The doctor had told us that the type of cancer he had would most likely recur, but when it would return was unknown.  Of course we had all hoped it would not return, but if it did, that it would be many years down the road.
Back in November when I thought about the fact that Dad's battle with cancer and that journey he was on was not yet over, I found myself thinking about that word – journey.   It means more than just a short trip from one place to another.  One definition is, "a passage or progress from one stage to another."
I think about it this way.  A trip, to me, is like going to the grocery store.  It's going somewhere for a specific purpose, for just a short time, before returning back home.  But a journey in my mind, is traveling at a distance, maybe with a destination in mind, but with other stops along the way.  Stops to enjoy the views, to discover unexpected delights and making memories to savor for years to come.
But wait – my own definition is radically different than the journey my Dad has been on.  Yes, he has had unexpected stops.  Like the heart attack.  Not exactly a nice view.  Unexpected delights?  Some.  Like the outpouring of love shown to him and my mom and the thousands of prayers offered up to our God.  But the unknown was often nerve wracking and far from delightful.  Memories?  Many, but not all good.
So how can I continue to call the experience my Dad has been and still is going through a journey?
I can call it a journey because I know where my Dad's ultimate destination is.  He is still traveling along the path God has him on, and I'm praying he still has a way to go.  But his ultimate destination is heaven.
Stops to enjoy the view?  When we travel, do we not go through areas that are not so pretty to get to the breath-taking sites?  Dad has gone through some very hard things.  And still is.  Things that have been downright ugly.  But at many points when he has turned a corner, when he has had days of feeling well, when he has spent time with family and felt God's presence beside him, it was good places to stop and enjoy the moments.
What about the unexpected delights?  Again, it's easy to think about the bad, but there have been moments that have brought delight.  Dad's sickness has caused many, including myself, think more about the importance of family.  To enjoy the small things.  To know the feeling of full dependence and trust in an Almighty, Loving Lord.  It's been a matter of choosing to look at how much God has and is doing instead of what has not happened.
And memories?  More than can be counted. Some not very pleasant, but many that are priceless.  But just because they have not all been moments we want to savor, it made the good ones just that much more precious.
One recent memory caught on camera by my Dad, himself, will always bring a smile to my face.  My brother and sister-in-law, my husband and I went to Mom and Dad's to spend time together for Christmas.  We took turns taking pictures of each other.  Then wanting to have a picture of us all together, we gathered around my parents and my Dad took a selfie.  First time ever!
As I look at that picture, I remember the journey.  We are all on a journey.  Sometimes we look outward, at things that are around us, things that are occurring that we allow to determine if the journey has been a good one or bad one.  But we also need to look within.  The journey that determines the destination of our soul is so much more important than the journey our bodies are on.  Are we taking short trips, focusing on whatever immediate gratification we can grab, or are we on that journey that leads us to an eternity with Christ?
Maybe we should all take a selfie, search our hearts and see if we are on a trip or a journey.
But for now, travel on, Dad.  The journey isn't over yet.