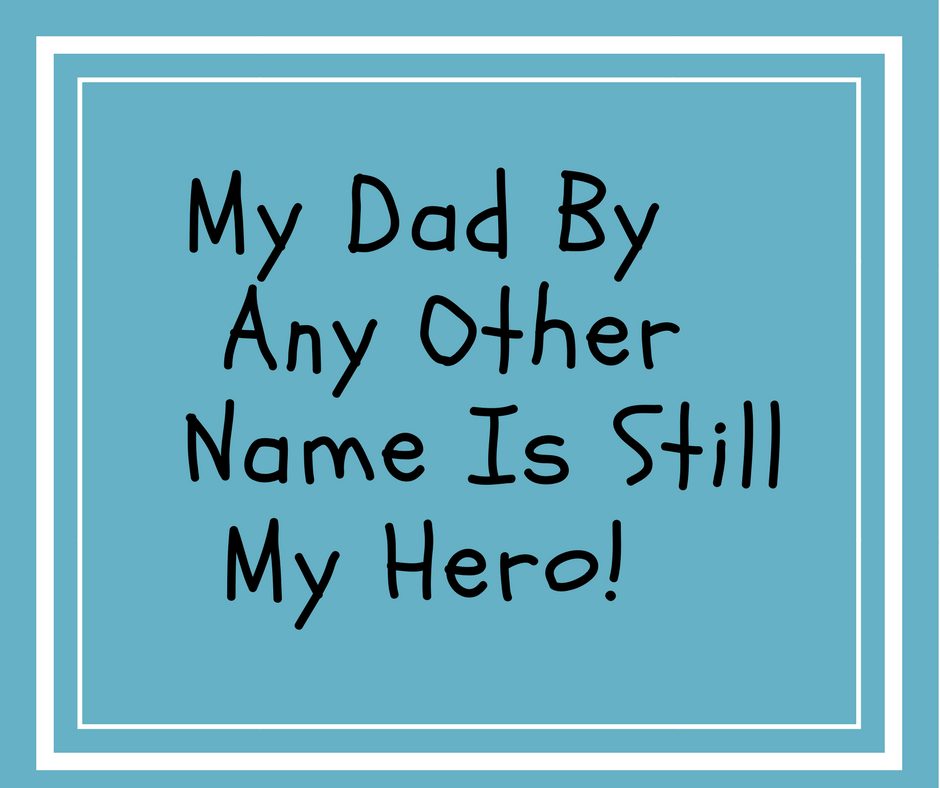 On Wednesday, July 5th, Dad went to the cancer center for the sixth, and we hoped, the final chemo treatment.
For as long as I can remember, my Dad always wore button up shirts.  Whether they were dress shirts or work shirts, they were buttoned in the front and had pockets where he would keep a pad and an ink pen.
On his birthday in May, my daughter Christy gave him a Superman t-shirt.  It seemed to tickle him.  He wore it to the next chemo treatment.  The ladies at the cancer clinic got a kick out of calling him Superman.
Then my brother Nelson and sister-in-law Anna gave him a Tony the Tiger t-shirt.  He wore that to the next treatment and again got a good response from the nurses.  The names from the two shirts were combined and he became known as Superman Tony.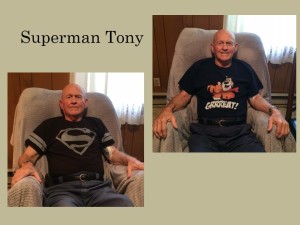 For his final treatment he wore a t-shirt my daughter Martha gave him.  In the center of the shirt, it says, "My favorite people call me."  All around the shirt were the words: Dad, Papa, Husband, Brother, Father-In-law, Brother-In-Law, and Uncle.  When one nurse saw it, Dad told her she could call him anything on the shirt she wanted to call him, but to not ask him for money.  She asked him for a car, instead.
Before starting the last chemo treatment, they checked his blood levels.  Because his heart attack had been caused by his low blood, they wanted to make sure his levels were good before giving him a treatment.  When they saw that his blood levels were ok, they started the fluids and nausea IV.  They had to wait on the chemo so it was almost 1:00 before it was started.  He finished up around 2:30.  Martha came to the cancer center and greeted him with balloons when he came out, in celebration of his last treatment.
As with all the other treatments, he felt ok for a couple of days but began feeling weaker and weaker.  He began to run some fever on Monday, July 10.  He ran a little on Tuesday and had chills Tuesday night.  He had a scheduled appointment at Levine on Wednesday.  He was so weak he could hardly walk.  They decided to give him some fluids and an antibiotic by IV.  They checked his blood and the levels were low so they sent him to the hospital to get two units of blood.  He was finally able to go home around 8:00 PM.
He felt much better Thursday morning.  Superman Tony was back!  He was up at 5:30 ready to eat breakfast and start his day.
When I think of all of the various names my Dad has, I realize that all of those names describe the relationship that different people have with him.  To me, he's the best Daddy in the world.  His grandchildren and great grandchildren endearingly call him Papa.  He is many things to many people.  Just as we all are to the different people in our lives.
When we have accepted Christ as our Savior, we have a unique relationship with our Heavenly Father.  He also has various names depending upon the need that is in our life at any particular moment.  When we need peace, He is our Jehovah Shalom (the Lord is Peace.)  When we feel alone, He is our El Roi (He Who Sees Me.)  When we need protection and guidance, He is Jehovah Rohi (The Lord is My Shepherd.)  When we are in the midst of a battle, He is our Jehovah Nissi (The Lord is My Banner.)  When we have needs, He is Jehovah Jireh (The Lord Will Provide.)  And many, many more.  God is our Everything in every circumstance.
Over the last several weeks since Dad's last chemo treatment, he has been very weak.  The doctor has said it could be just from the chemo and the stress his body has been through and also from the heart attack he had.   It has been hard and discouraging not getting his strength back as quickly as he would like.
Dad went for the PET scan on Tuesday, July 25th.  It was a long 24 hours waiting to see the doctor for results.
On Wednesday, July 26th, Dad's appointment at Levine was at 9:20.  Mom, my brother and I eagerly waited with Dad for the doctor to come.  When the doctor came in, he brought up the image of the first PET scan next to the image of the PET scan from the previous day.  The results showed the cancer was gone.  Dad is in full remission!
There is a bell that hangs on the wall in the hall of the cancer center.  When a patient is declared cancer free, they get to ring the bell.  As the nurses and family members gathered around, Dad rang the bell.  Everyone cheered and clapped.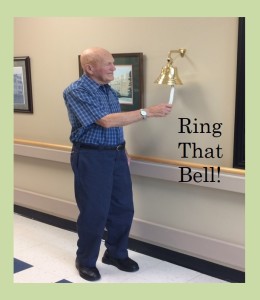 We are praising and thanking God for all He has done.  It has been a long, hard four months.  And Dad still has a way to go in building up his strength.  But God has been with us all every step of the way.  May the bells in heaven ring to the glory of my Abba!
And to my Dad, God has most recently been Jehovah Rapha (The Lord Who Heals.)
Dad, you will always be my Super Hero.  And now you have a couple more names.  Cancer Survivor and a Healed Child of God! Amen!