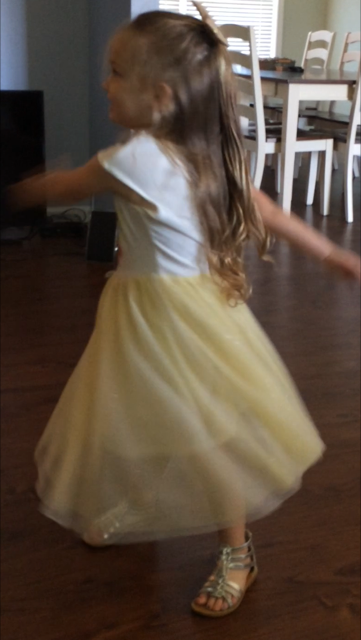 My granddaughter is a Princess.  She loves wearing her little dresses, especially when she can twirl around and see the skirt billowing out.  My grandson is into super heroes.  But the two of them find a way to merge their playtime.  Hadley will pretend she is the princess and will tell Hudson which super power to use to protect her and the palace from the "bad guys."  When he is successful in saving her, she will bestow on him additional powers which thrills him.  Hudson tried to teach me how to be a good Ninja, but Hadley always said that Hudson was the best and gave him the coveted rewards.
One evening while all three of my grandchildren were staying with us, Hudson played with his Paw Paw while Hadley and Harper played with me.  Of course Hadley was on her way to the ball at the castle and Harper and I were following her lead.  Once we got to the ball, she instructed us that she needed to teach us to dance.  She would proceed to twirl around the kitchen and I would try to repeat her steps.  Although Harper is younger and doesn't fully understand the privileges of being invited to the ball, she did her own little dance as well.
A couple days later, Ken and I were working outside when my daughter and her husband and the grandkids came driving up the driveway.  The day had been quite windy and the leaves had been falling all around us.  As Hudson got out of their car and came running toward us, he said, "It's raining leaves!"
It's so much fun looking at life through their view of the world and the imagination they have.  I have to admit, though, they teach me a lot, too.
I have always loved the Fall.  I love the brilliance of the vibrant colors of the leaves.  It saddens me when the leaves start falling.  But as I started thinking about Hudson saying it was raining leaves, I paid more attention.  The leaves that were falling still had color in them.  They were not just falling, but they looked as if they were dancing through the air.  They were twirling and even lifting at times before they finally reached their resting place on the ground.  The leaves that continued to hang on to the limbs of the trees, are now turning brown and are dying.  They are losing their beauty but are stubbornly hanging on.
Although I do love this time of year, it also makes me contemplate how quickly life is passing by.  With my Dad being sick this past year and with Ken's Mom also facing challenging health issues, I realize that life is precious, but also is short.
But then again, hearing Hadley tell me that she needed me to practice more dance moves with her, makes me feel young.  I started thinking maybe it's possible to be both.  To realize I'm getting older, but continue to dance like a princess at a ball.
There are verses in the Bible about dancing.  They are not referring to the dancing we see on TV shows.  It isn't dancing done in seductive ways.  It's the kind of dancing that is the result of pure joy in knowing the Lord.
I remembered a verse in the Bible about King David dancing.  He was bringing the Ark of the Covenant back to his city.
"Then David danced before the Lord with all his might; and David was wearing a linen ephod."  2 Samuel 6:14 (NKJV)
David was thrilled that the Ark, the symbol of the Presence of God, was once again going to be close by.  The last part of the verse about the linen ephod is telling us that David threw off his royal robes.  He wore a tunic that others, besides priests, would wear in their service to the Lord.  He was laying down his claim to royalty in order to serve his God.
Psalm 149:1-5 is another passage I like.
Praise the Lord! Sing to the Lord a new song,
And His praise in the assembly of saints.
2 Let Israel rejoice in their Maker;
Let the children of Zion be joyful in their King.
3 Let them praise His name with the dance;
Let them sing praises to Him with the timbrel and harp.
4 For the Lord takes pleasure in His people;
He will beautify the humble with salvation.
5 Let the saints be joyful in glory;
Let them sing aloud on their beds.
We are also told this:
To everything there is a season, A time for every purpose under heaven:  2 A time to be born, And a time to die; A time to plant, And a time to pluck what is planted; 3 A time to kill, And a time to heal; A time to break down, And a time to build up; 4 A time to weep, And a time to laugh; A time to mourn, And a time to dance;  Ecclesiastes 3:1-4 (NKJV)
And one more passage:
17 O God, You have taught me from my youth; And to this day I declare Your wondrous works.
18 Now also when I am old and grayheaded, O God, do not forsake me, Until I declare Your strength to this generation, Your power to everyone who is to come.   Psalm 71:17-18 (NKJV)
I don't plan on becoming completely gray headed anytime soon, but I do pray that God will allow me to serve Him until He takes me home.  I want to dance with the innocence of a child, with abandon like the leaves letting go of their grip and with the Super Power of the Holy Spirit giving me the strength to serve until my last breath.  I want my grandchildren, the next generation, to see me worshiping with all my might.
I don't want to grow old and die, hanging on to past moments of glory, even though at the time I was truly blessed. Instead, I want to go out dancing.