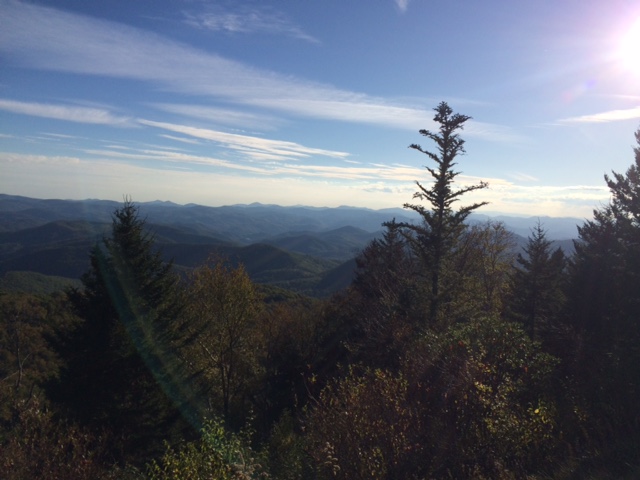 I did something the other weekend I never imagined I would have done.
My husband had a motorcycle when we were first married but when I became pregnant and life started changing, he sold it.  But after a period of 30 years, he bought a Harley Davidson back in April.
So one weekend, we joined five other couples from our church and took a bike trip to the mountains. Five couples rode bikes and one of the couples, who normally would have ridden their bike, drove their car due to his recently having surgery.
My first worry was how to pack.  Two people.  Two small saddle bags.  One back pack.  Right.
We met for breakfast Saturday morning.  I admit I was a little nervous.  I had never ridden for more than an hour at one time.  I wasn't sure what to expect, but the other ladies helped me a lot.  One lady let me borrow some chaps.  Another thing I never imagined would be a part of my life (or on my 53-year-old body.)
We left Richfield around 9 AM and headed to Morganton to meet up with some other people.  We made some pit stops along the way.  I felt like I was doing pretty well.  The only thing I haven't liked the whole time Ken has had the bike is the fact that I can't see directly in front of me so I always lean slightly to the side, enough to see around the left side of his helmet.  So my neck and shoulder was really beginning to ache by noon when we stopped in Morganton.
When all of the other people showed up that we were meeting, our group of five bikes became a group of eleven.  I felt like a nervous little kid.  We rode up toward Lake Lure and Chimney Rock.  We rode the Blue Ridge Parkway.  Whenever we pulled off to stop and then start to get back on the road again, our couple in the car would pull out when nothing was coming and then sit and let us all get out on the road safely.
As the day started getting later, we stopped and got our heavier clothing, our chaps and gloves back on to handle the falling temperatures.  Some of the ones who had joined us earlier started leaving the group and we headed to our motel in Cherokee where we had reservations.  To be completely honest, the winding roads, the darkness, the falling temperature, my tired, tight, aching neck and shoulders had gotten me to the point where I was just ready to stop.  I was trying to be a big girl, but I really just wanted to cry.  Not to mention I really needed to pee and I had chaps on.  What!?!
We finally got to the hotel around 7:30, although it felt like midnight.  The couples we were with are all so much fun to be around.  There was a restaurant across the street so we all walked over to it to eat supper.  The laughter, the sharing of stories and lives, the joking, everything that makes sharing life with friends good, helped adjust my attitude immensely.
Sunday morning was much better.  I got up an hour early and was able to stretch out my body to prepare for the long day of riding.  We met at 8:00 and went across the street again and ate breakfast.  Again, it was another meal eaten surrounded with laughter and fun.
After eating and getting all packed up, we all prepared to leave.  It was a cool, crisp morning.  We all had our chaps, leather, gloves, and coats, anything warm on.  We left out around 9:30.  A couple from the previous day rode with us, so seven bikes and our personal "Pilot" car headed through Cherokee and then to Gatlinburg, Tennessee.
We got out of the touristy areas and I settled back to enjoy the ride.  I had a totally different attitude that morning.  My sister-in-law, who has her own bike and rides a lot by herself, says she uses her rides alone to talk to God.  I had started doing that some on the short rides Ken and I had been on.  But on that Sunday morning on that beautiful mountain road, I couldn't help but start pouring out my heart to God.
As I looked up, the sky was a gorgeous, beautiful dark blue.  Perfectly clear, not a cloud to be seen.  The road we were on was following the creek where the crystal clear water was streaming over perfectly smooth stones of all sizes.  The road was curvy, but instead of tensing up and straining to see around Ken, I relaxed against the back seat and swayed along with the bike.  And I prayed.  I thanked God for His love.  I thanked God for His Son.  I thanked God for loving me so much that He allowed His Son to die for me.  And then I thanked God that He raised Christ from the dead so that I now have that hope of everlasting life with Him.  When we see the beauty of nature, we are without excuse in believing in our God.
As we continued to ride, I continued to pray.  And just as the bike swayed from side to side going around the curves, my prayers wove in and out from petitions to praises to repentance to awe and all the issues of life flowed from my heart just as the water flowed over the stones.
It never ceases to amaze me that so much of everyday occurrences parallels spirituals matters.  Just as we were riding along those curvy mountain roads, we all are traveling along in our spiritual journeys.  We have twists and turns.  But I'm learning that instead of straining to looking ahead, instead of looking around the obstacles in my path, I need to just relax, allow the Holy Spirit to have full control of my life, to Pilot me through every circumstance.  By doing that, I can look at the wonders He is performing all around me instead of worrying about what I can't control before me.
As the day went on, the sky that had been a beautiful dark blue, paled and became filled with thin wispy clouds that took away from the clearness of the day.
We stopped for lunch at a family style restaurant that was very good, but it took a long time.  It was becoming clear that we were not going to be able to get home before dark. So we headed to the interstate.  Suddenly, the leisurely pace we had been taking on the back roads and parkways was over.
Ken and I had been at the back of the group when we got on the interstate and when the group sped off, we fell even further behind, but our faithful Pilot car was still behind us.  I found myself hunkering down behind Ken.  I didn't try to look around him.  I didn't even try to look from side to side because of the wind blowing so strongly against my helmet.  After several miles of going pretty fast, we all pulled off at a rest stop.  I was shaking with fear when we stopped.  My lack of experience at riding was definitely showing again.
We had pulled off because the hour was getting late and the sun and temperatures would be descending before the next anticipated stop.  Everyone once again bundled up in preparation for the last leg of the journey.
When we got back on the road, I began reflecting again over all I had experienced.  After having spiritual highs in life, how like it is to experience a trying, mad rush, a trial, and a period of testing.  A time that may be filled with fear and confusion.  When the feeling of complete trust and peace that had just been enjoyed is forgotten.  But if I had bothered to look back, I would have seen my Pilot, my source of Comfort was still there.  He was still watching, was still ready to pick me up if I needed Him to.
All I ever need to do is just hunker down in the Word, recall God's promises, remember how He's always been with me and that He always will.  I just need to put on my armor and re-enter the race more fully prepared.
After we got off the interstate I did relax a little more.  I began to look around once again.  The sun was mostly below the horizon and that's when I noticed it.  Those thin, wispy clouds that had taken away the beauty of the blue sky were now a deep, beautiful pink and crimson.  The pale blue, now a beautiful aqua.  It was breath-taking.  Isn't that how it is in life?  We dismiss something, thinking it as less than beautiful.  But in God's hand, it becomes more than beautiful.
When we were about 30 minutes from home, we stopped one last time at a service station.  This time it wasn't to gas up or potty.  It wasn't to add more layers of clothing.  It was just to say goodbye to one another.  We all hugged and told each other how much fun we had.  That we needed to do it again.  It was almost as if we were not going to see each other for a very long time, but in reality we would see each other in three days at the Wednesday night church service.
Then we gathered in a circle, held hands and prayed.  Again.  I haven't mentioned that yet.  But our trip had been bathed in prayer.  We prayed each morning before we started our journey.  We prayed over every meal.  Our petitions had not been just the routine, ritualistic Christian thing to do.  They were the kind of prayers that were prayed with believing hearts and the fruits of those prayers were being gathered right there in the parking lot of that gas station.
As we rode on toward our home, the moon, God's "lesser light," was shining in the sky, lighting up the road before us.
Our spiritual paths are not always brightly lit, either.  We rely on God's Word to guide us.  We rely on His wisdom and knowledge to help us make right choices and decisions.  And as Christians, we surround ourselves with awesome prayer warriors, they're called friends, who can give wise counsel.
It had been a wonderful trip.  I was ready to call it a night.  But my body wasn't.
When I laid down, it felt like my body was still vibrating, as if I was still riding on the back of the motorcycle.  And the next morning, my body was sore.
But that is a lesson, too.  When we have had a personal experience with our Lord, it should have a lasting effect.
And, yes.  I'm ready to do it again!