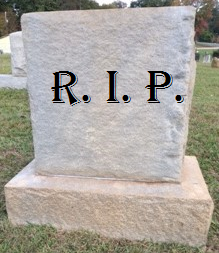 I have to say that I don't really like the scary displays that are seen around Halloween.  The ghosts and zombies, headless bodies and tomb stones.   As I drove past one yard I saw a tombstone with "R.I.P." written in big black letters.  That is seen a lot around Halloween but it is also used at other times when someone passes away.  I suppose it is meant as a tribute to the deceased person.  But when I saw it on that fake tombstone, I thought about the meaning of those letters in a different way.
Rest In Peace.
Do you know we can Rest In Peace now?  As a child of God, we can be filled with His peace on a continual basis.  After all, the Bible tells us that Christ came into this world as the Prince of Peace.
"For unto us a child is born, unto us a son is given: and the government shall be upon his shoulder: and his name shall be called Wonderful, Counsellor, The mighty God, The everlasting Father, The Prince of Peace."  Isaiah 9:6 (KJV)
So how do we get access to that peace?  We gain peace when we:
1.  Abide in Christ.
"Therefore being justified by faith, we have peace with God through our Lord Jesus Christ."  Romans 5:1 (KJV)
God is a holy and just God.  He judges sin.  Those who have not accepted Christ as their personal Savior are separated from God, warring against Him.  But when we come in faith and repentance, accepting Christ as our Savior, we are cleansed from all unrighteousness and are then at peace with God.
2.  Abide in God's Word.
"For to be carnally minded is death; but to be spiritually minded is life and peace."  Romans 8:6 (KJV)
As believers, we are to allow God complete control of our lives.  As we study His Word and crucify ourselves daily, His Spirit that lives within us will be evident in our outward behavior.
"But the fruit of the Spirit is love, joy, peace, longsuffering, kindness, goodness, faithfulness, gentleness, self-control.  Against such there is no law."  Galatians 5:22-23 NKJV
3.  Abide in His Promise
"Peace I leave with you, my peace I give unto you: not as the world giveth, give I unto you. Let not your heart be troubled, neither let it be afraid."  John 14:27 (KJV)
It's not easy to live a Christian life in this world.   But Christ promised that we are never alone.
"These things I have spoken unto you, that in me ye might have peace. In the world ye shall have tribulation: but be of good cheer; I have overcome the world."  John 16:33 (KJV)
4.  Abide Within His Commission
"Then said Jesus to them again, Peace be unto you: as my Father hath sent me, even so send I you."  John 20:21 (KJV)
Jesus told the disciples that we are to go into the world and share with others the good news of salvation.  But we don't have to go in our own strength.  He will equip us to do everything He asks us to do.  He didn't promise it would be easy, but He did say that His peace would go with us.
"And the peace of God, which passeth all understanding, shall keep your hearts and minds through Christ Jesus."  Philippians 4:7 (KJV)
5.  Abide in the Ultimate R.I.P.
"And God shall wipe away all tears from their eyes; and there shall be no more death, neither sorrow, nor crying, neither shall there be any more pain: for the former things are passed away.  And he that sat upon the throne said, Behold, I make all things new. And he said unto me, Write: for these words are true and faithful.  And he said unto me, It is done. I am Alpha and Omega, the beginning and the end. I will give unto him that is athirst of the fountain of the water of life freely."  Revelation 21:4-6 (KJV)
I think this verse sums it all up.  We can rest in peace for all eternity.
I have never really liked saying, "RIP," like many people do when a person has passed if I don't know their spiritual condition.  The condition of a person's heart, whether or not they have been saved, determines where the person will spend eternity when they die.
If they are a Christian, then they are immediately in the presence of Christ.  However, if a person is lost, they are immediately separated from God forever.  We can call that person's name out and say, "RIP," a million times, but if they were not saved, they will be forever in torment with absolutely no possibility of ever experiencing peace again.  In their case, it is completely useless for us to wish for them to rest in peace.
But for the Christian, it's a totally different story.  We get to experience God's peace even in the midst of this sinful world and then we get to be at rest in peace throughout eternity when we die.
So, are you resting in God's peace every day?
But an even bigger question is – When you die, can R.I.P. be written on your tombstone?