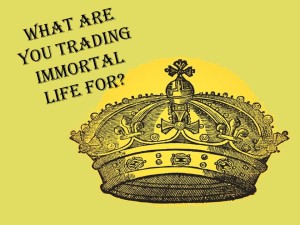 I've never been a big fan of commercials.  They have a way of interrupting a good show just when something exciting is about to happen.  Of course, it's getting harder and harder to find really good, decent shows to watch anymore.  But that's another subject.
I was recently watching TV when a commercial came on advertising an alcoholic beverage.  I think we can all agree that, although I do not promote those commercials, they are often cleverly made.  In fact, depending on which website you look at, there are two alcoholic beverage companies that have produced commercials which are listed as the number one and the number five most expensive commercials of all time.  On the polls that do not list them as #1 and #5, they are still within the top 10.
But when this one particular commercial aired, I was absolutely stunned at the truth in the commercial.  A truth that needs to preached in every pulpit and that every believer in Christ needs to share.
It begins with a medieval king, sitting on his throne with his queen by his side.  In front of him is a wizard, surrounded by a crowd of witnesses.  He is pointing at various things and turning those things into a stack of the king's preferred beverage.  At one point the wizard informs the king that he is capable of performing other feats.  Such as putting a curse on his enemies. Or granting the king immortal life.  The king contemplates for just a second before telling the wizard to proceed with turning the designated item into his flesh's desire.
As I said, the moment I saw that, I was filled with awe at the truth.  And deeply saddened.  How many people are trading in the opportunity to spend an eternity with a loving, forgiving God for the temporary pleasures of this earth?  Talk about great discussion starter!
I looked up the phrase that is used in that commercial.  "Dilly" means, "something or someone regarded as remarkable, unusual, etc."  Dictionary.com also says the origin of the word is sometime between 1930-1935., and was probably the shortening of the words delicious or delightful.
Let me introduce you to SOMEONE who is truly delightful and delicious.
"Oh, taste and see that the Lord is good; Blessed is the man who trusts in Him!" Psalm 34:8 (NKJV)
Many people think that having a relationship with Christ means giving up everything that may bring them fun, joy and happiness in this life.  But once we give ourselves fully to the Lord, we can experience more joy than we can ever imagine.  And not only does it bring us happiness, but we are fully blessed.  Not so with the unbeliever.  Read the following passages that contrast the blessings of the believer from the fate of those who refuse to have a relationship with Christ.
"Blessed is the man who walks not in the counsel of the ungodly, nor stands in the path of sinners, nor sits in the seat of the scornful;  2 But his delight is in the law of the Lord, and in His law he meditates day and night.  3 He shall be like a tree planted by the rivers of water, that brings forth its fruit in its season, whose leaf also shall not wither;  And whatever he does shall prosper.  4 The ungodly are not so, but are like the chaff which the wind drives away.  Therefore the ungodly shall not stand in the judgment, nor sinners in the congregation of the righteous.  6 For the Lord knows the way of the righteous, but the way of the ungodly shall perish."     Psalm 1:1-6 (NKJV)
"Do not fret because of evildoers, nor be envious of the workers of iniquity.  2 For they shall soon be cut down like the grass, and wither as the green herb.  3 Trust in the Lord, and do good; Dwell in the land, and feed on His faithfulness.  4 Delight yourself also in the Lord, and He shall give you the desires of your heart."  Psalm 37:1-4  (NKJV)
 And not only can we find delight in the Lord, but He can be delighted with us!
 "Those who are of a perverse heart are an abomination to the Lord, but the blameless in their ways are His delight."  Proverbs 11:20 (NKJV)
"The steps of a good man are ordered by the Lord,  and He delights in his way.  24 Though he fall, he shall not be utterly cast down;  For the Lord upholds him with His hand."  Psalm 37:23-24 (NKJV)
 Going back to the commercial, what did the wizard say he could offer?  He said he could curse the king's enemies and give him immortal life.  Our delightful Savior offers that and more.  And He is far more powerful and greater than a professing wizard.  Not only are we blessed as mentioned above, but when we accept Christ as our Savior, we have the assurance of spending an eternity with Him.
 "For God so loved the world that He gave His only begotten Son, that whoever believes in Him should not perish but have everlasting life. 17 For God did not send His Son into the world to condemn the world, but that the world through Him might be saved.   18 "He who believes in Him is not condemned; but he who does not believe is condemned already, because he has not believed in the name of the only begotten Son of God."    John 3:16-18 (NKJV)
 And Jesus, Himself, says this in a prayer He was praying to His Father:
 "And this is eternal life, that they may know You, the only true God, and Jesus Christ whom You have sent."  John 17:3 (NKJV)
 So if you think that choosing the temporary desires of this life is worth whatever fulfillment it may bring in the moment, let me go a little further.  What if I told you that not only will we spend an eternity with God, we will rule and reign with Him?
"And from Jesus Christ, the faithful witness, the firstborn from the dead, and the ruler over the kings of the earth. To Him who loved us and washed us from our sins in His own blood, 6 and has made us kings and priests to His God and Father, to Him be glory and dominion forever and ever. Amen."  Revelation 1:5-6  (NKJV)
"This is a faithful saying: For if we died with Him, We shall also live with Him.  12 If we endure, We shall also reign with Him.  If we deny Him, He also will deny us."    2 Timothy 2:11-12 (NKJV)
 And as for our greatest enemy:
"The devil, who deceived them, was cast into the lake of fire and brimstone where the beast and the false prophet are. And they will be tormented day and night forever and ever."  Revelation 20:10 (NKJV)
Everyone may say that it's a wonderful that the devil is going to get what's coming for him.  But the sad thing is, that the devil is not the only one to be thrown into that lake of fire.
"And anyone not found written in the Book of Life was cast into the lake of fire."  Revelation 20:15 (NKJV)
 A lot of prayers are lifted up to God asking for this and asking for that.  I think even unbelievers pray for good things to happen for themselves.  But imagine Christ standing before you after you have asked Him for this blessing and for that desire.  What if He tells you that He can give you more?  What if He tells you that He can defeat your enemies and give you eternal life?  How would you reply to that?
Dilly, dilly indeed.